Skip to end of metadata
Go to start of metadata
Step 1: Login to Lists.uccs.edu
To log into the lists management interface use any browser: Lists
Step 2: Enter the Settings Panel
If you have management capabilities of a list you will see the list name on the left with a settings link to the right of the name. Click on the settings link.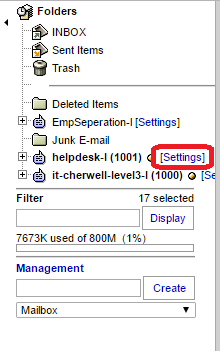 Step 3: Click on Subscription
Click on the Subscription link at the top of the page.


Step 4: Open Notepad to Edit
Building a list of subscribers initially is easiest using text editor like Windows Notepad. To get Notepad, click on the Start button, select All Programs, then Accessories, and open Notepad. Type each subscriber's email address on a separate line. When the list is complete, click on the File menu and select Save. Type a name for the list and click the Save button. Close Notepad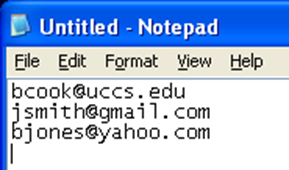 Step 5: Select the Save File
Inside of webmail, click the Browse button and select the file you just saved. Then click the Subscribe button. All subscribers added from a file will have feed abilities unless you have changed the default null. See below for a more detailed explanation.


Step 6: User Subscription Settings
To add an additional subscriber, type the email address in the box labeled Single Address. Find the Mode box at the bottom of the window. Set it to feed if the subscriber will send and receive email. Set it to null if the subscriber will send email but cannot receive email. An example of using the null might be a subscriber that can submit requests to a list, but cannot view internal email between other subscribers. Now click the Subscribe button near the top of the window to add the subscriber.

Step 7: Setting Feed and Null Modes
To change a subscriber from feed to null, click the box to the left of the email address to add a checkmark. Set the Mode box to null and click the Set button to the left of the mode box. Change from null to feed in a similar fashion.


Step 8: Removing a Subscriber
To remove a subscriber from the list, click the box to the left of the email address and click the Unsubscribe button. Unsubscribed users will still be on the list but will show unsub in the Mode column. Webmail will remove unsubscribed users periodically.