Skip to end of metadata
Go to start of metadata
The UCCS IT Help Desk highly recommends upgrading Office 2010 to either Office 2013 or Office 2016 to ensure functionality. To upgrade to a newer version of Office, please contact the UCCS IT Help Desk at 719-255-3536 or email helpdesk@uccs.edu
Attaching Spam as an Attachment for Outlook 2016 (Windows)
Step 1: Create a New Email
Start a new email within Outlook.


Step 2: Drag Spam/Phishing Email and Drop in New Email
Drag the Spam/Phishing email from your list of emails and drop it into the new email. Address the email to helpdesk@uccs.edu and put Reporting Spam/Phishing as the subject.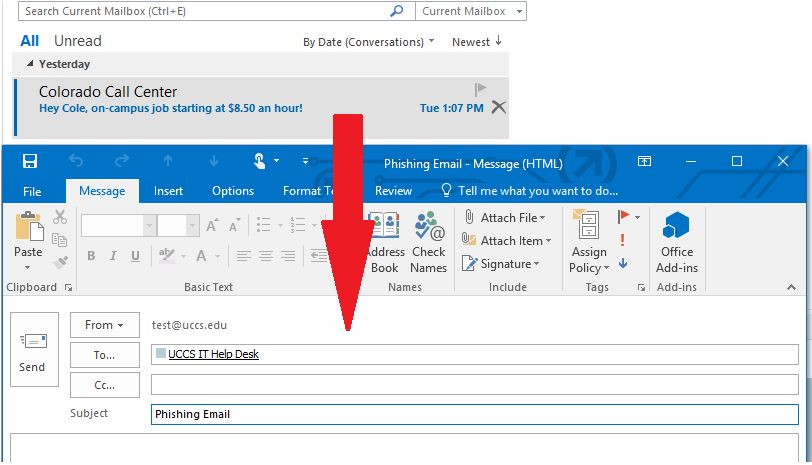 Step 3: Send the Email
Finally you should see the email you made with the spam/phishing email in the Attached section.  You are then ready to press Send and send the email.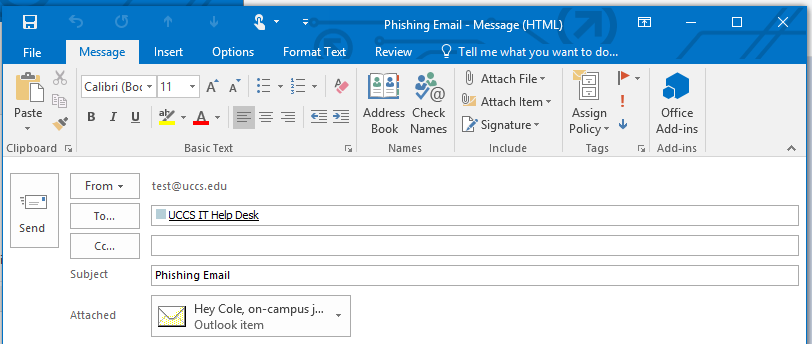 Attaching Spam as an Attachment for Outlook 2010 & 2013 (Windows)
Step 1: Create a New Email
Create a new email and address it to helpdesk@uccs.edu with the subject of SPAM Email.
Step 2: Attaching the Email
Click on the Attach Item icon and choose Outlook Item from the drop down.
Step 3: Insert Item
In the Insert Item window, find the email you would like to attach. Below the OK button ensure that it is send as attachment. Click OK.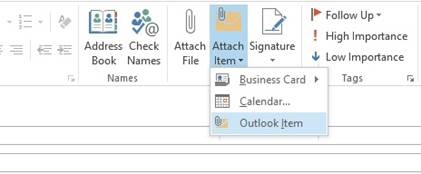 Step 4: Send the Email
The email should now show an attachment. Click Send.