Skip to end of metadata
Go to start of metadata
About Creating a Guest Account
You can use this option to request a temporary username and password from OIT that can then be used to join the UCCS-Wireless network. These temporary accounts are active for a week from the point in time they are created, and can be used to log in to the UCCS-Wireless network (which is secure) in order to gain Internet access. The username and password for these temporary accounts are delivered to the guest by email (also displayed on screen during time of registration), and can also be sent through a text message.  Additionally, guests accounts can be obtained by visiting the Office of Information Technology Help Desk. For hours and location see the Get Help page.
If you are on campus just temporarily and need basic web browsing access, you can simply use the Single-Click Access option that the UCCS-Guest network provides. This option requires no username and password.
Step 1: Open Network Settings
Click on the network icon in the bottom right corner. Then select settings from the top of the card.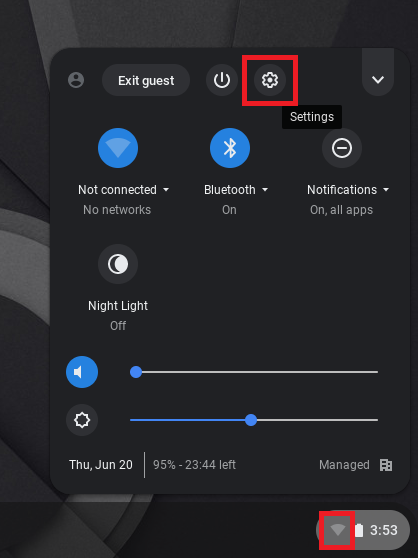 Step 2: Connect to the UCCS-Guest Network
Click Wi-Fi and then select UCCS-Guest from the list to begin connecting to the UCCS-Guest network.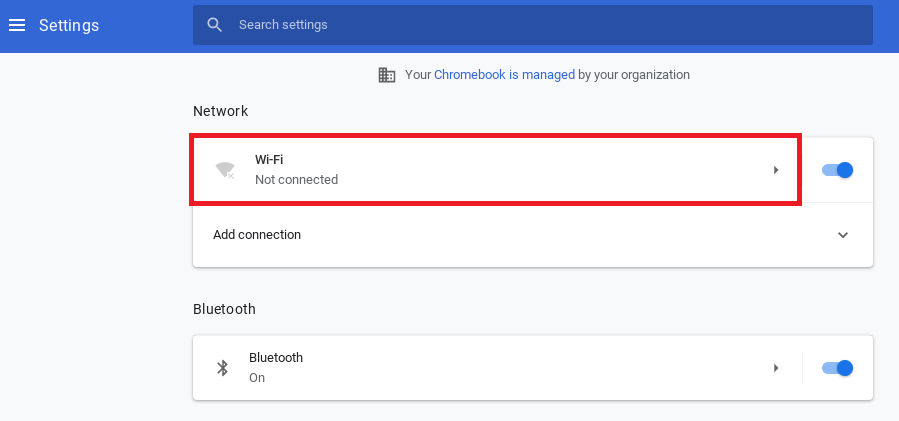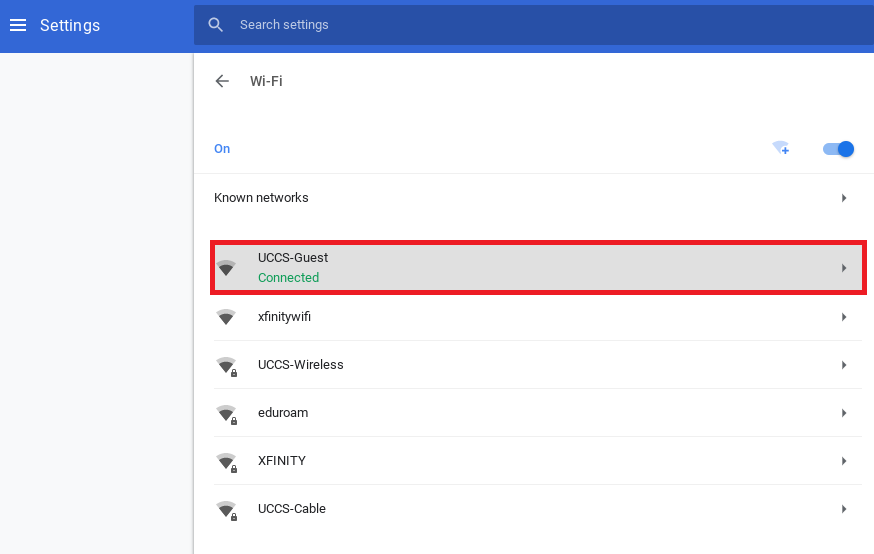 Step 3: Create Guest Account
Click on the notification in the bottom right corner of the screen to go to the UCCS-Guest prompt screen. If there isn't a notification, launch a web browser. Under the Guest Account section click the Create Guest Account link.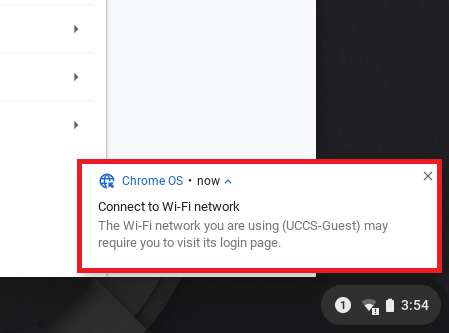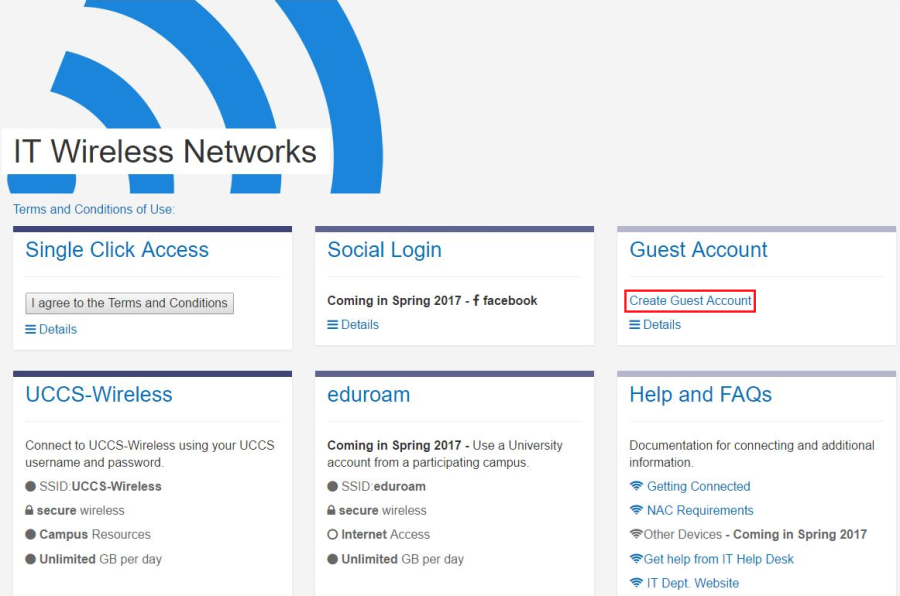 Step 4: Fill Out Form and Click Register
Fill out the form and then click the Register button at the bottom.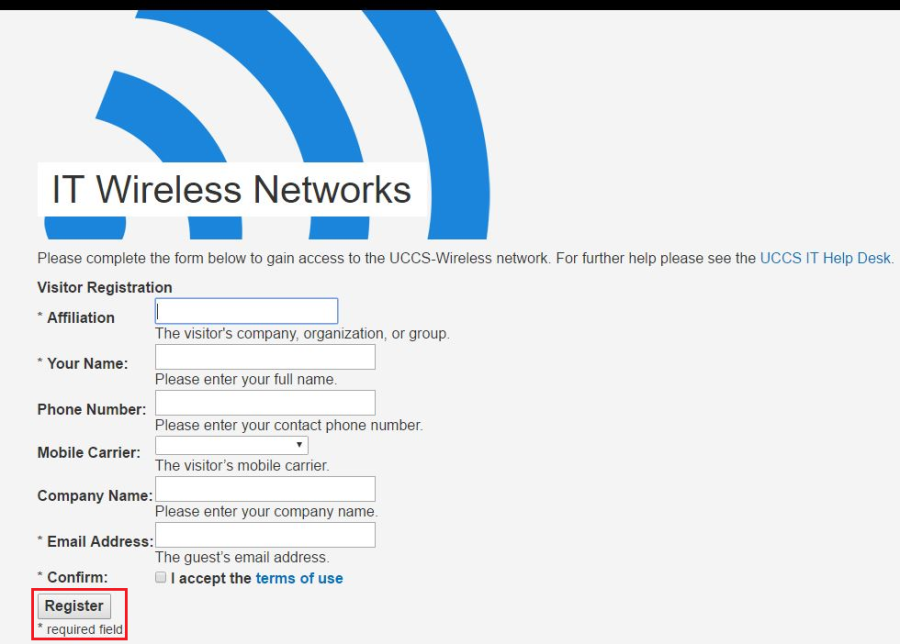 Step 5: Take Note of Guest Account Information
Take note of your newly issued guest login credentials (username and password) so you can use them to log into the UCCS-Wireless network in the steps below.
Step 6: Connect to UCCS-Wireless
Click on the network icon again from the bottom right corner and go to network settings.  Then select UCCS-Wireless from the list.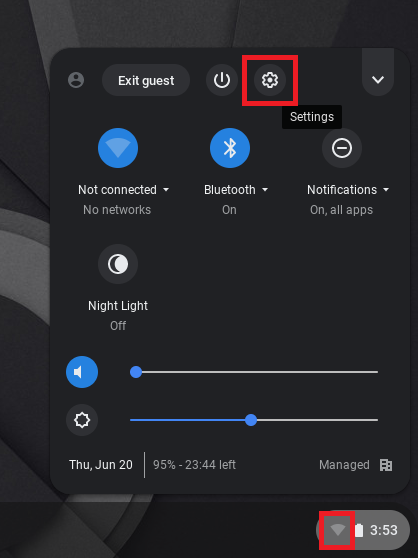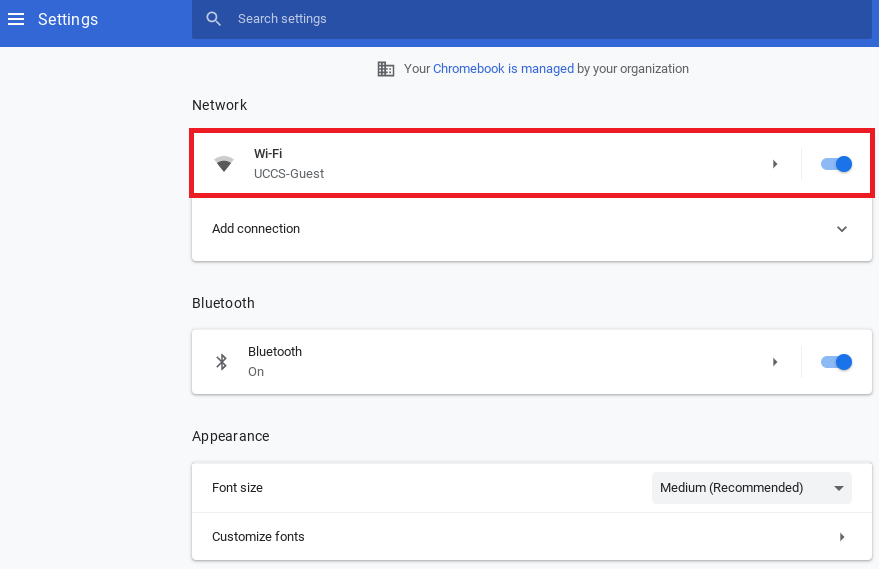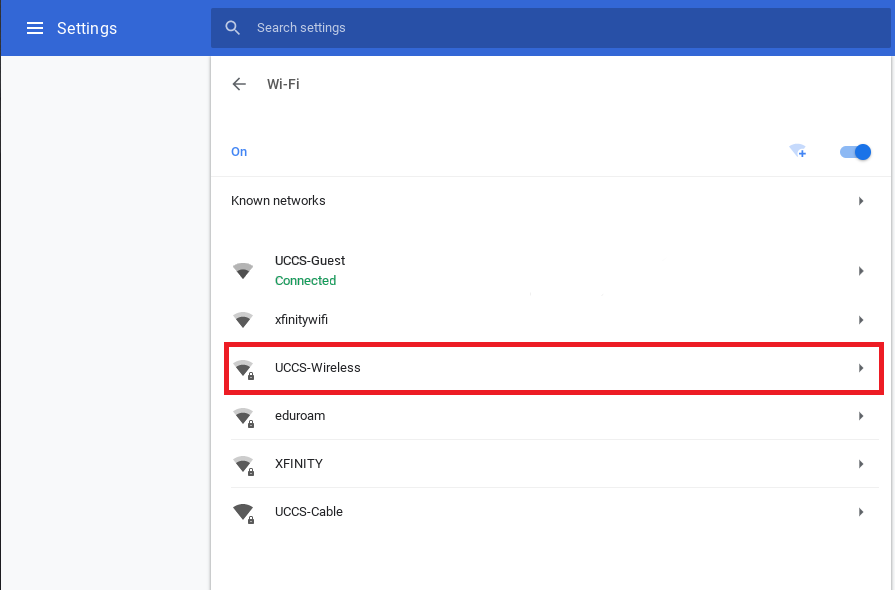 Step 7: Enter Credentials and Connect
Make sure the credentials match the ones below. Enter the guest username and password you obtained from the registration step above and click connect.
SSID: UCCS-Wireless
EAP method: PEAP
EAP Phase 2 authentication: MSCHAPv2
Server CA certificate: Default
Identity: (UCCS username@uccs.edu)
Password: (UCCS password)
Anonymous Identity: <leave blank>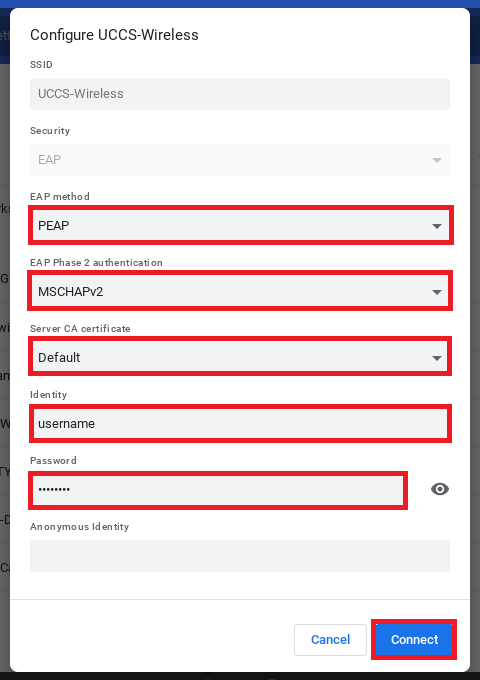 Step 8: Verify Connection
Check to see if your device is connected by clicking the network icon located in the bottom right of the screen. The device should show that it's connected to UCCS-Wireless and display the signal strength of the network.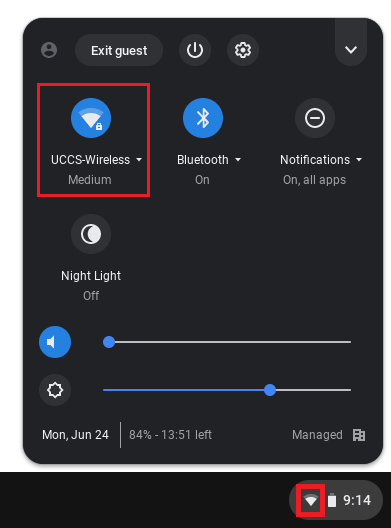 Your device should now be connected to UCCS-Wireless with your guest account.
Still having problems? Please contact the OIT Help Desk.