Skip to end of metadata
Go to start of metadata
Step 1: Go to Google Play Store
Open your web browser and go to the Google Play Store or click on the link. In the Google Play store, search for Microsoft Office Mobile.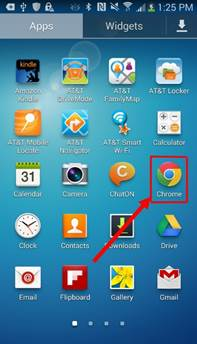 Step 2: Click Install
You may be prompted to open in either the Google Play App or in your Web browser. Choose either option, the following steps will be the same. Click on the green install button. Please Note: You will need a google account for this download to work.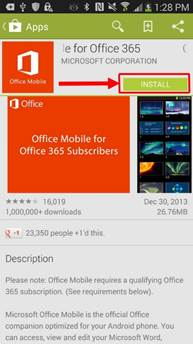 Step 3: Click Accept
An app permission screen will appear, click Accept.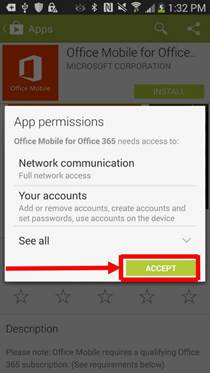 Step 4: Click Open
When the installation is complete, the Google Play page or web page install button will have been replaced by Open and Uninstall buttons. Click Open.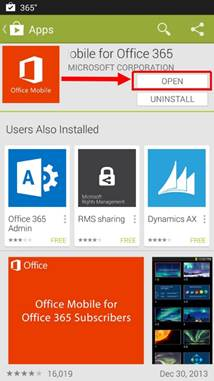 Step 5: Click Accept
Click Accept to agree to Microsoft's Use Terms.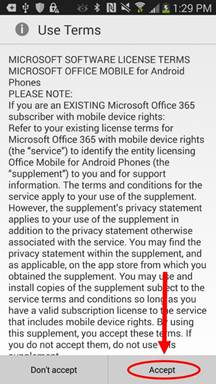 Step 6: Microsoft's Welcome Screen
When Office opens for the first time a welcome screen and general information about Microsoft's cloud service will appear. You can get through these screens with the arrow button located in the bottom right corner.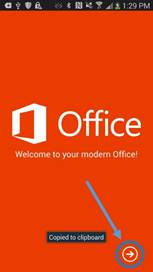 Step 7: Click Active Office
Click Activate Office.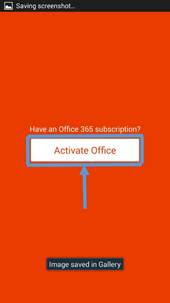 Step 8: Enter Your UCCS Information
Enter your UCCS Email into the Email field and then your UCCS Password into the Password field. Click Sign In.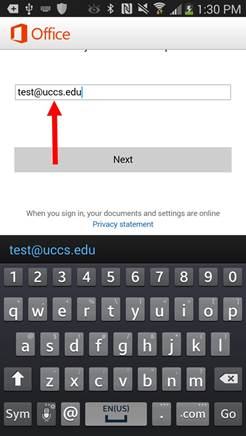 Step 9: Microsoft Office Mobile is Installed
Microsoft Office Mobile will now appear in your list of apps. You can now create Word, Powerpoint, and Excel files on your Android phone.