...
Info
This guide is geared specifically to creating an inbox rule to help clean up Undelivered emails after an email account has been compromised.
Table of Contents
...
...
Step 1:
...
Click
the
...
Settings
Menu
Once you log in, click on the cog in the Settings (gear icon in the upper right hand corner of the screen), then select View all Outlook settings.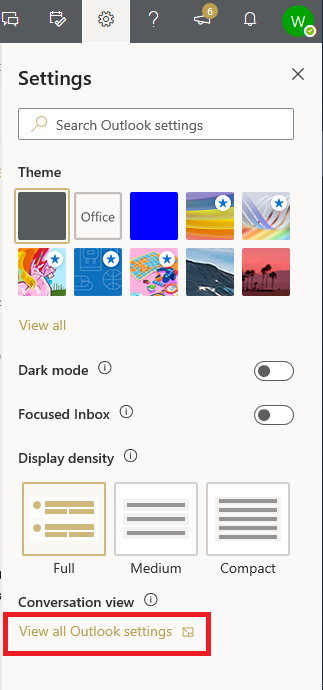 Image RemovedAll Outlook Settings at the bottom:

Image Added
Step 2: Select the
...
Rules Menu
In the options menu, select Mail -> Rules -> Click Rules → Add new rule.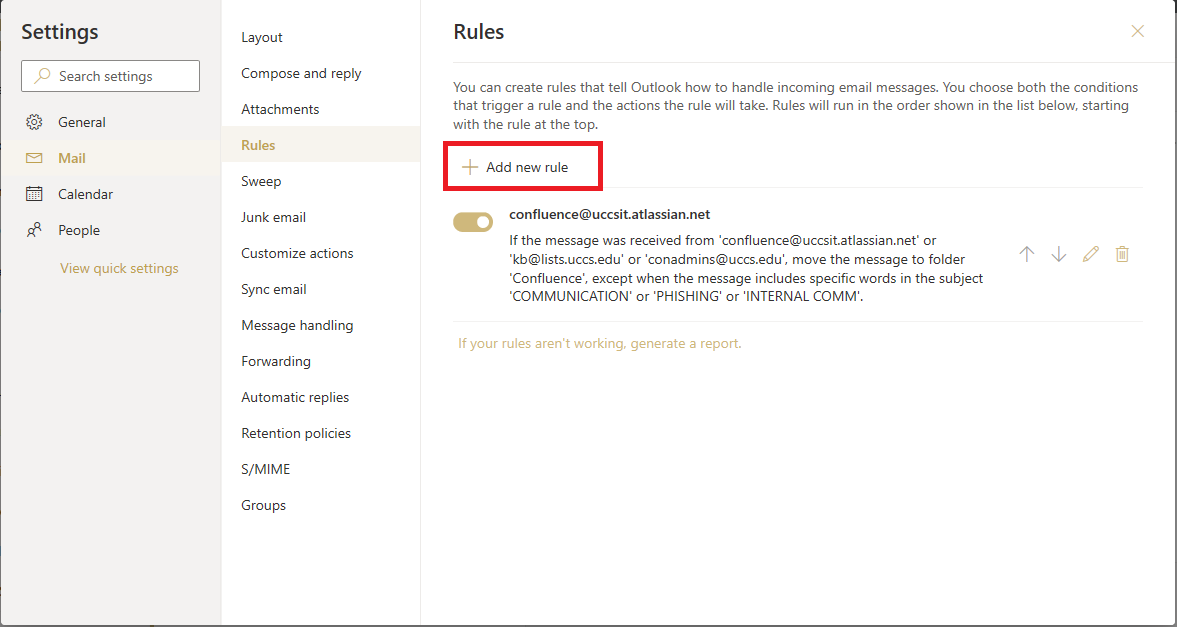 Image Removed
Image Added
Step 3: Create a New Rule
...
The following screen will open when you select Create new rule
Image Removed
You can name the rule whatever you'd like.  For this guide we have named the rule test.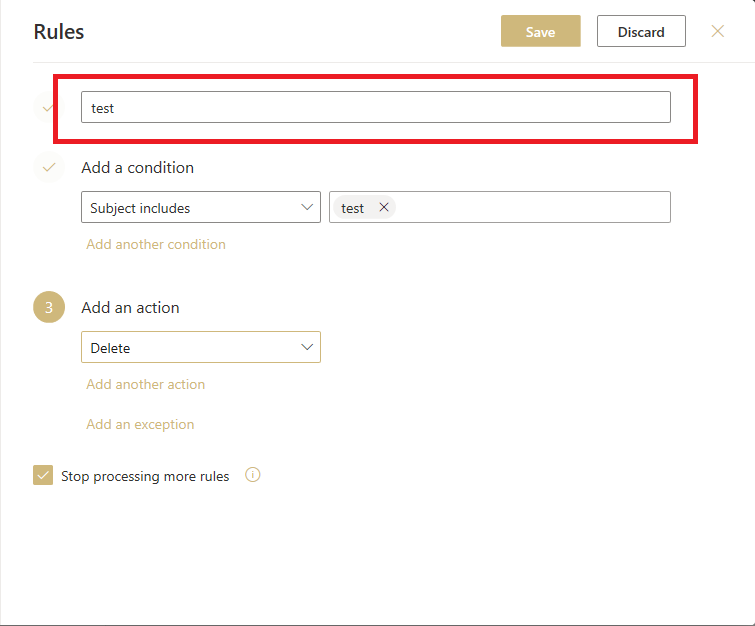 Image Removed
...
Enter a descriptive name for the rule
Image Added
...
The word you'll want to add to the rule is Undeliverable and then you'll click the + icon.
Image Removed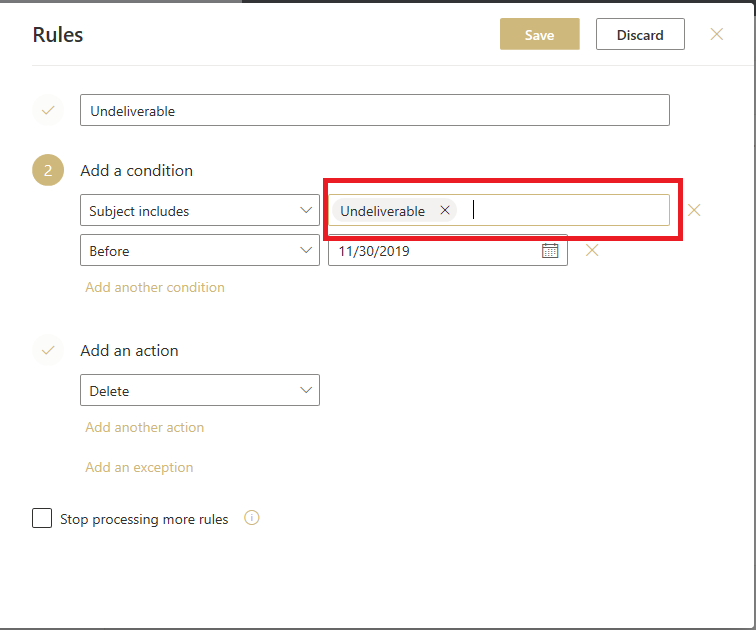 Image Removed
Step 6: Setting Up Date Span
Note
This rule is critical!  The rule only needs to run for about two days before it is once again disabled.  This allows you to get Undelivereable emails in the future if an email you send to a professor or another student couldn't be sent.
...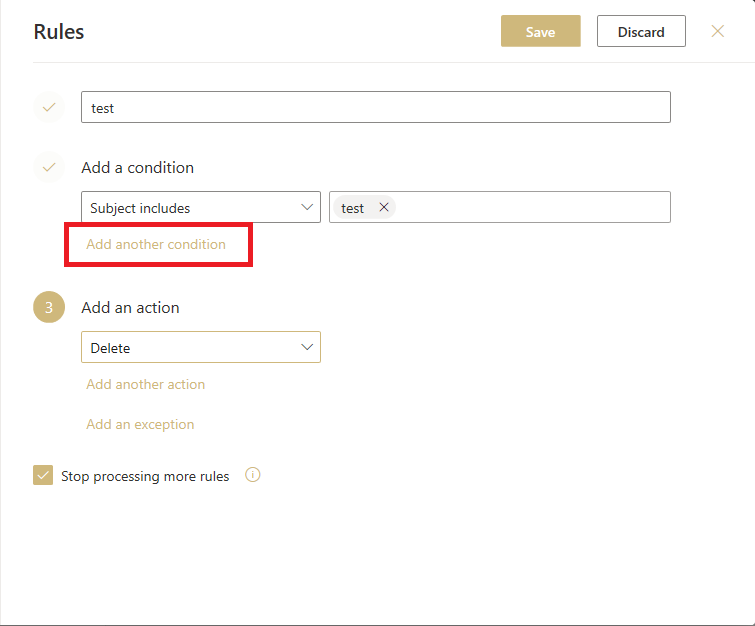 Image Removed
From the drop down box select Before under the Received section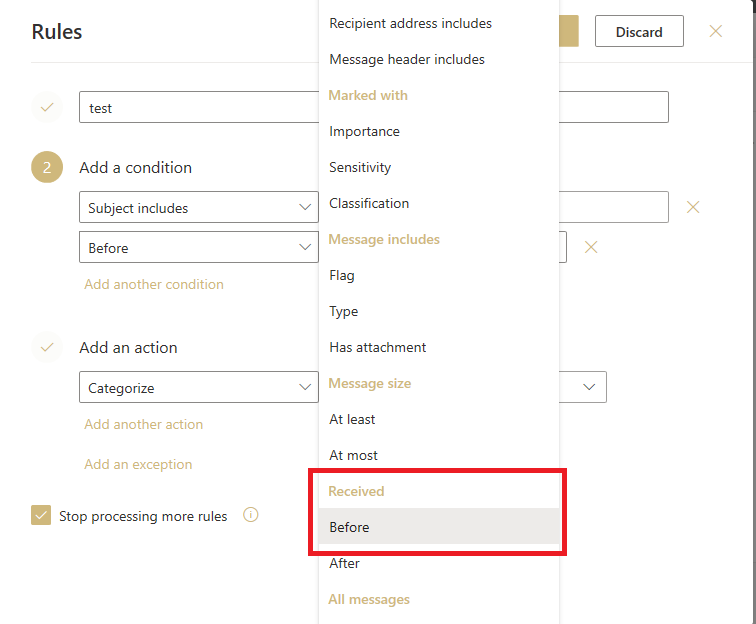 Image Removed
For the date you'll want to select is 2 days from the current date.  In this example today's date is 11/27/2019.  So the date picked is 11/30/2019 so that for the current date and over the next two days the rule will be applied.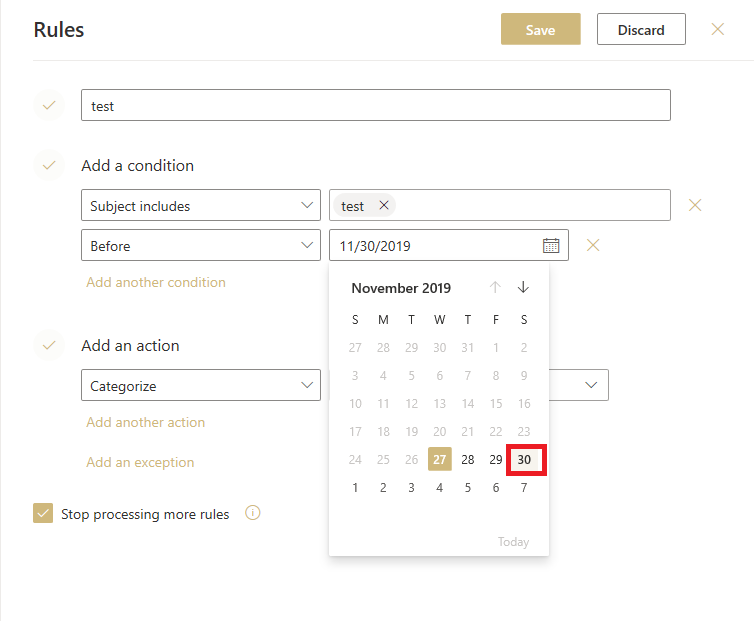 Image Removed
Step 7: Setup the Action to Delete
Under the Add an action section you'll want to select the drop down box and then select Delete under the Organize section
Image Removed
Step 8: Verify Final Settings
Make sure that your rule looks similar to the image below, with the date being set according to Step 6.
Make sure that the check box at the bottom of the screen for Stop processing more rules is unchecked.
...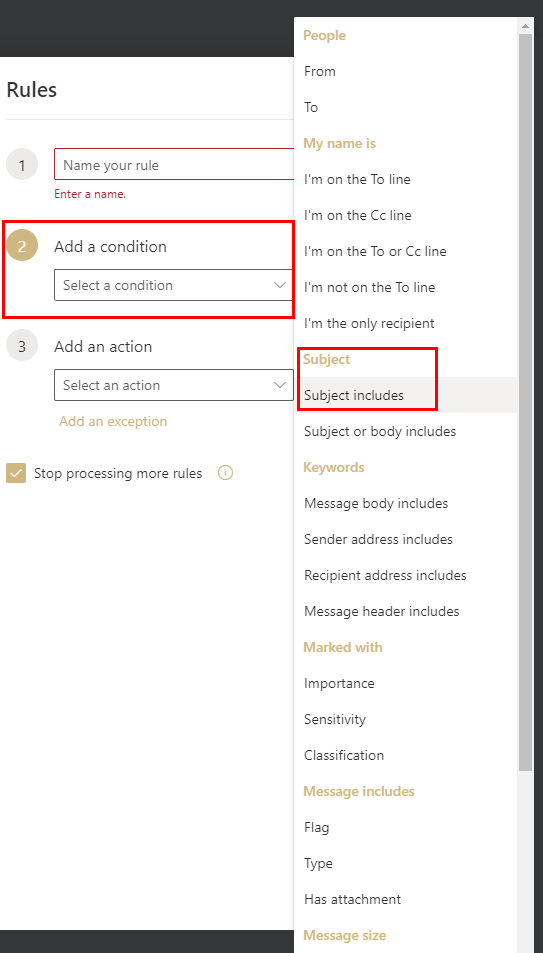 Image Added

Image Added
Step 7: Select what to do with the messages
Under

Add an action

, select what you'd like to do with the message

In this example, we want to

move

the message to the

Deleted Items

folder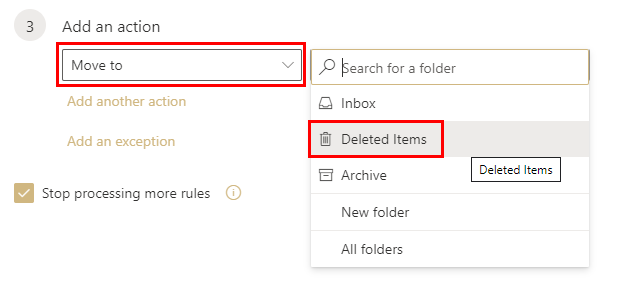 Image Added
Step 8: Save the Rule
Image Added
Image Added
You can

temporarily turn off

the rule by toggling the

switch to the left

of the rule

You can

edit

or

delete

the rule by pressing the respective icon

to the right

of the rule
...